About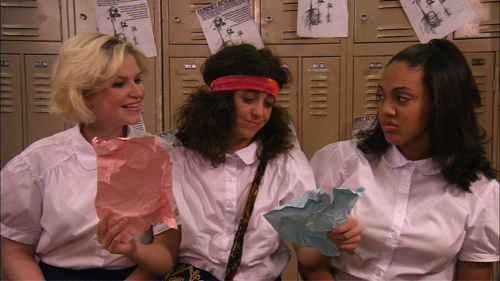 Pineapple Upside-down Cake,
the concept
The coming-of-age tale is a staple of good storytelling. It is relatable, human, and it is what so much of our society uses to draw inspiration from the birth and gumption of our Nation. Pineapple Upside-down Cake finds a way to humorously pull you into a volatile time of American History where issues of racial and sexual inequality were finally being addressed.
The three women in the story are amalgamations of true-to-life people experienced by this project's creator, Amy Lerner-Maddox.
Ms. Lerner-Maddox's vision is one of creativity; a re-experiencing of her final days in a New York City high school as told through the creative eyes and minds of several different directors, actors, and crew members; all with varying levels of experience ranging from student to professional film-maker. Furthermore, the use of the Web as the primary medium for the story to move forward is pivotal to the guerrilla storytelling style of the series.
There are currently 10 episodes slated, 2 of which have been completed, with a third currently in pre-production.
Pineapple Upside-Down Cake is Girl Power at its Best.

Andy Meyer—Executive Producer of Fried Green Tomatoes & The Breakfast Club
...Grease meets Mary Tyler Moore. Lots of fun.

Michael Nolin—Producer of
Mr. Holland's Opus